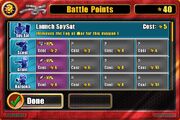 Battle Points are the upgrade system in Great Big War Game's Campaign. Most Units have four upgrades that can be purchased with Battle Points. These units are in the GBWG Battle Point Upgradeable Units Category.
Each upgrade can only be purchased in order from left to right, so the upgrades the units have are in what is called an "Upgrade Series". You can also spend 5 Battle Points to activate a SpySat which uncovers the Fog of War for the reminder of the mission, which works in all game modes with the BP option in the menu.
How to obtain Battle Points
Edit
There are three ways to obtain Battle Points.
The first way is to complete Campaign Missions. Each mission you complete will give you three Battle Points.
You can earn one to three Battle Points during a mission by collecting Battle Point Boxes placed throughout each Campaign Mission.
You can also purchase the Battle Chest, which includes 150 Battle Points and some maps, for $1.99.